Video/ german/ 16:30 min/ Clara Winter & Miiel Ferráez/ Deutschland 2019
"Ein humorvoller wie treffender Kommentar auf das Bild von Deutschland im Ausland. Basiert auf dem Integrationskurs "Leben in Deutschland"."
Frauen Film Festival Dortmund/ Köln
And we still speak german today.
Phrases from "Living in Germany" -a course that migrants must take to integrate into german culture- are staged in front of german institutions and companies abroad. The language and phrasing meant to convey german values and customs seem to be at odds with german representatives which display a certain inconsistency in coming to terms with the past.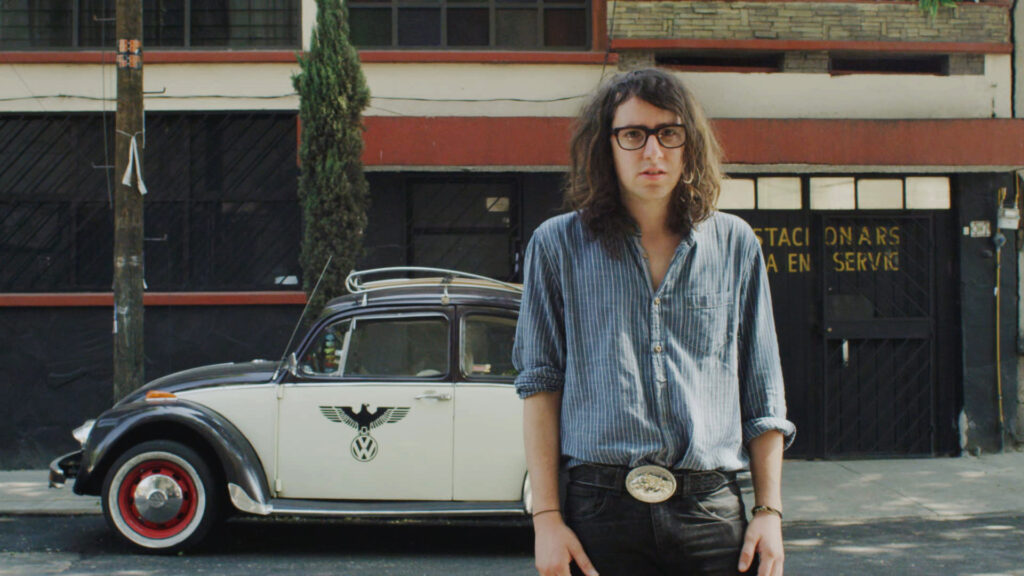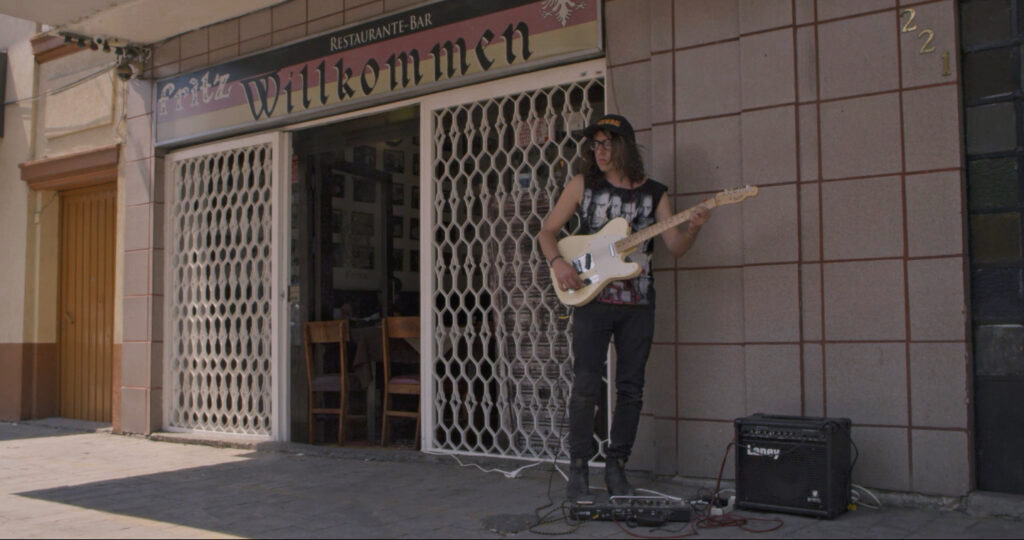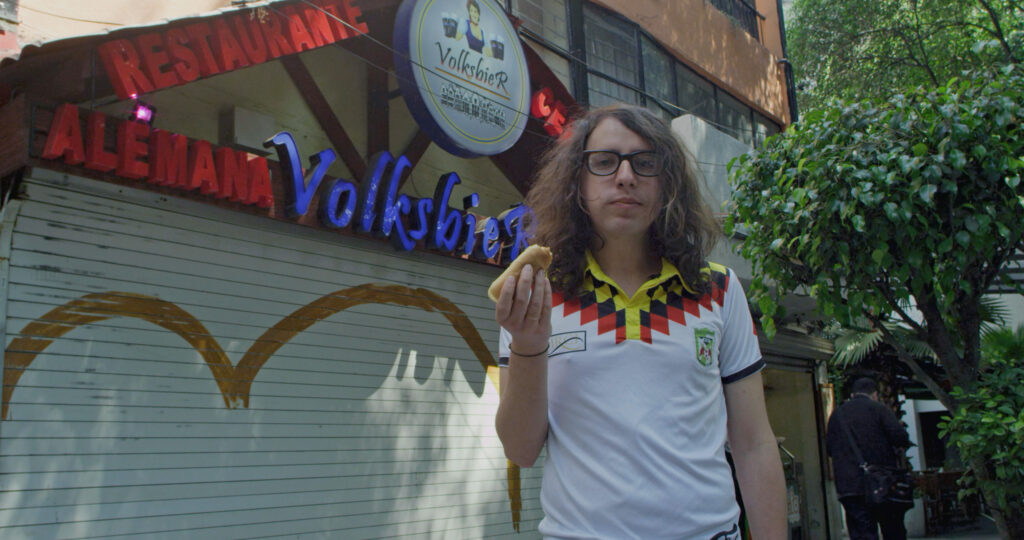 Text des Deutschen Kurzfilmpreises experimental:

Eine junge Person (Co-Regisseur*in Miiel Ferráez) trägt Sätze aus dem Integrationskurs "Leben in Deutschland" vor, während er vor wechselnden Hintergründen deutscher Repräsentanz im Ausland steht. Die Worte, die deutsche Werte und Gepflogenheiten vermitteln sollen, stehen dabei im Kontrast zu den gezeigten Orten, die eine gewisse Widersprüchlichkeit bezüglich ihrer Vergangenheitsbewältigung aufweisen.

Jurybegründung
In einem bestechend einfachen und doch brillanten Konzept stellen Clara Winter und Miguel Ferráez zwei Perspektiven deutscher Selbstdarstellung in einen neuen gemeinsamen Kontext. Zum einen dokumentarische Bilder mit deutschem Bezug aus Mexiko-Stadt und zum anderen einen sympathischen, ob seines Akzentes vermutlich mexikanischen jungen Mann, der frei Auszüge aus dem Integrationskurs "Leben in Deutschland" vorträgt. Diese fein montierte Kollision beider Elemente legt auf präzise Weise Widersprüche und Zynismen des deutschen Selbstverständnisses frei, die enorm vielschichtig und dabei auf schmerzende Weise komisch ausfallen. WIR SPRECHEN HEUTE NOCH DEUTSCH ist ein Film über Integration – allerdings unsere eigene: die nicht ganz so glatt verlaufende Integration Deutschlands in die globale Staatengemeinschaft.
A young man (co-director Miguel Ferráez) recites sentences from the integration course "Living in Germany" while standing in front of changing backgrounds of German representation abroad. The words, which are intended to convey German values and customs, contrast with the places shown, which show a certain contradiction in terms of how they have come to terms with the past.

Jury statement
In an impressively simple yet brilliant concept, Clara Winter and Miguel Ferráez place two perspectives of German self-representation in a new common context. On the one hand, documentary images with a German connection from Mexico City, and on the other, a sympathetic young man, probably Mexican because of his accent, who freely presents excerpts from the integration course "Living in Germany". This finely mounted collision of the two elements exposes in a precise way contradictions and cynicisms of the German self-image, which are enormously complex and at the same time painfully comical. WE STILL SPEAK GERMAN TODAY is a film about integration – but our own: The not-so-smooth integration of Germany into the global community of states.
Festivals/Screenings:
2019:
Premiere Dokfest Kassel

2020:
Stuttgarter Filmwinter
Max-Ophülspreis – shortlist
Internationale Kurzfilmwoche Regensburg
Schauspielhaus Chemnitz (Kurzfilpreistour)
Internationales Frauenfilmfestival Dortmund/ Köln
Filmfest Dresden (Mitteldeutsche Kurzfilmnacht)
Goethe Institut Kuala Lumpur, Malaysia
Goethe Institut Zypern (Nikosia)
Goethe Institut Tansania
Goethe Institut Bangalore
Goethe Institut Stockholm
Goethe Institut Chisinau (Republik Moldau)
Freilichtkino Körnerpark Berlin
Filmfestival Weiterstatt
Kurzsüchtigfestival Leipzig
Luru Kino Leipzig
Pferderennbahn Sommerkino Leipzig
Thalia Kino Dresden
Clubkino im Lingnerschloss Dresden
Zebra Kommunales Kino Konstanz
Kommunales Kino Weitwinkel Weitwinkel
Openair Seebrücke Heringsdorf
Medienhaus Hannover
Cinema Münster
Kino achteinhalb Saarbrücken
Werkstattkino München
Kinocenter Husum
Orangerie im Schlosspark Oranienburg
Videorama, Werkleitz Halle
Award:
German short film award 2019 – experimental
Audience Award Kurzsüchtig Festival Leipzig experimental